Beautiful Lake Greenwood is a 11,400-acre fresh water lake touching on the Counties of Greenwood, Laurens and Newberry. Whether you want the perfect primary residence, second home, weekend retreat or investment land, Lake Greenwood is still priced more favorably than many other lakes, because we are not next to a major metropolitan area. However, depending on where, just about all locations on the lake are only 10-30 minutes from the healthy micro-metro City of Greenwood, which boasts extensive business, shopping, restaurants and services, excellent healthcare, & diverse community activities and events. The nearby Town of '96 has 'one of everything!'
Two roadways and 2 train trestles cross the lake, therefore limiting access to the full length of the lake by larger/taller boats, e.g., cabin cruisers & tall sailboats. Ski-boats, small fishing boats, and the ever-popular pontoon/deck boat with bimini top have no problem with approx. eight foot clearance at the lake's highest level. Truly the recreational boater's delight! Like to fish? Great fishing- striped, hybrid, white and large mouth bass, crappie, brim (bream), catfish & perch! Fishing and boating are year-round. The shores are a fabulous kaleidoscope of color in the fall and the lake's cool, clean waters are a joy for swimmers, skiers & tubers in the summer. Maybe you just like to boat & float. Maybe you just enjoy beautiful everchanging views. Maybe you just love sparkling water.
About 22 miles long, Lake Greenwood is dam controlled and part of a 1,160sq-mile watershed coming down from the mountains, which gives us a tremendous advantage to recover if the nation's Southeast is ever hit by drought - we recover easily where many lakes struggle for years to recover their normal depth. Every fall, the lake is typically lowered down about 4 feet from its "full pool" level (439' above sea level) so the dam at its base can be maintained. In Feb., the lake refill begins again and is at full pool on or before April 15--just in time for a wonderful spring/summer/fall!
If you are "lake shopping," save Lake Greenwood for last. You will be excited and convinced. It is a fun place to play and lovely place to live. Lots of options: gated country clubs, nice HOA communities, lightly restricted communities, or simple unrestricted neighborhoods. Buy land now for later with no timeline to build. Unlike many area lakes, Lake Greenwood does not have Army Corps-restricted building set-backs for your home (several hundred feet at many lakes, but only 50' here) and docks are permitted (except in designated critical habitat zones--typically, but not solely, at the tips of coves).
Public lake access is available through 2 public boat ramps and 1000-acre Lake Greenwood State Park, plus several pay-for ramps dotted around the lake, but wouldn't you rather STAKE YOUR CLAIM and enjoy the intriguing and ever-changing view that lakefront living provides? With 200+ miles of shoreline, there is real-estate-for-sale to fit every budget and neighborhoods to fit every lifestyle. Use the easy Lake Greenwood search tools on this website to start your quest. LOVE YOUR LAKE LIFE!

Check out WHAT'S FOR SALE:
Lake Greenwood For Sale

---
Check out Lake Greenwood's current water level:
http://waterdata.usgs.gov
---
Check out the official government website for Lake Greenwood rules/regs etc.:
https://www.greenwoodcounty-sc.gov/blank-1-1-22
---
Want to see what a Lake Greenwood Dock Permit looks like?
https://drive.google.com/file/d/1zkOqScVVX2W9ITWEZKwhlKQRLJgFnzp9/view
---
Visit the non-profit Preserving Lake Greenwood site to learn about pro-active water quality efforts
https://www.preservinglakegreenwood.org
---
Handy link for checking depths around properties if you know where to look
Lake Greenwood Depths (Chart)
---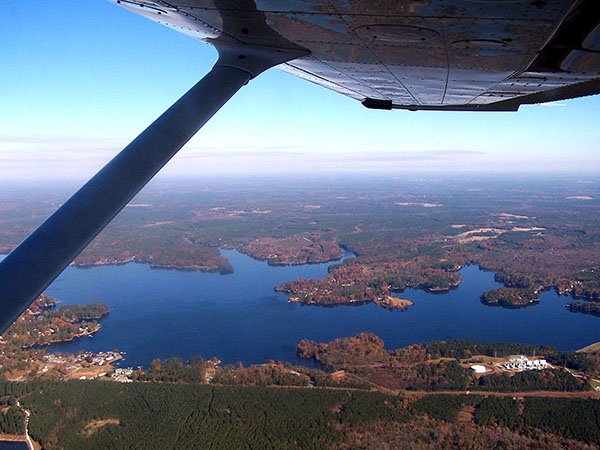 Flying Over Lake Greenwood
See it from the air- I had the pleasure of flying in a little Cessna & took these images. This link will take you to this clip on my YouTube Channel.