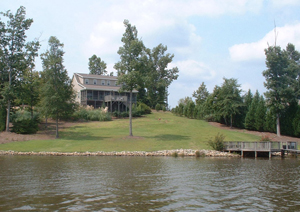 THINKING ABOUT SELLING?
Step 1. Lose the Fear
Step 2. Take Action Steps
Step 3. Pick the right REALTOR®
Step 4. MARKETING IS KING
---
Real Estate inventory - homes, land, or businesses, always fluctuates. Sometimes there will be a lot of competition, sometimes not as much, but you have a good fighting chance to accomplish your goal with the the right agent, the right marketing, and the right attitude. Some areas sell quickly, other not so fast, but there are Buyers out there. Your TLC Agent is a true professional with the expertise and resources to help you get or go where you want to be. When you are ready to "Change Your View," TLC is ready for you!
---
a) Prepare it carefully. Inside and out. Does the lot need clearing or improving? Does your exterior need painting/pressure washing? Deck need sealing? Can you improve landscaping? Is all litter kept clear on your road and access road? Curb appeal can make the difference between someone pulling in or pulling away. How about inside? Declutter. Put boxes and furniture in storage- CREATE SPACE. Buyers don't need to admire your style and decor – they want to envision themselves in there. On the other hand- a vacant home may sell quicker with a few representative pieces of furniture to give dimension to a room. Your agent can help you pin down what needs to be done.
b) Where you price should reflect your motivation level. Your strongest window of market excitement for residential is the first 60 days on the market. If you are overpriced- you may lose that edge. Your initial market position (your asking price) should be competitive. Price it too high to "test the market" or "wait until the market improves," you may end up with no offers or low-ball offers. On the other hand, a price adjustment within the 60-90 day period is a great way to put your property back in the spotlight. Your TLC agent can help you with different pricing strategies
c) Hire an Agressive Marketer. TLC likes to 'turn up the volume' in as many ways as creatively possible. We have proven marketing strategies in place targeted to provide Your Unique Property with the Best Exposure.
Click here to see the five factors that make your property SELLABLE.
Step 3. Pick the right REALTOR®.
Probably the 3 best tips you can get while you're considering ANY agent: 1) DO NOT pick an agent based solely on whoever suggests the highest price for your property. No agent can manipulate the market and all agent suggestions are negotiable provided they are reasonably based on market facts; 2) DO NOT pick an agent based on the lowest commission fee- you typically get what you pay for; 3) DO pick an agent that has an aggressive marketing plan that matches your property.
Selling your home is a large undertaking. Making the smart move of choosing a REALTOR® is your first best step to ensuring that your investment in your home pays off. TLC services and experience allow you to focus on your move while your TLC agent manages your home sale from the initial consultation to the closing deal, and beyond. We will always do our best because we want your repeat & referral business.
Back to top
---
Step 4. MARKETING IS KING
See my Strategic Marketing plan

You've heard of the basic "Ps"- Put in the sign, Put it on MLS, Pray it Sells. Any agent worth their salt should be able and willing to offer you additional "Ps" – put it into advertising, put it on the internet, promote it! HOW they do these steps and to what extent, plus what are they willing to do to "go the extra mile," can make all the difference between a well-marketed property that has the best chance of selling for the most $$, and one that SITS. Some agents like to brag about the 100s of websites you'll be on. Fact is, thru' Internet Data Exchange (IDX), most agents can do that for you- you're simply plugged into the MLS and your listing is fed to 100s of websites. That's a HUGE advantage over being a For-Sale-By Owner. However, that is NOT the same as proactively managing website accounts & online commitments to ensure PREMIUM EXPOSURE. Ask your REALTOR about their "IDX Solution" and what they do beyond the "3 Ps."

TLC offers creative and dynamic systems incorporated into an 'Extreme Marketing' strategy to hit local, regional, national & international audiences. Our marketing plans incorporate broadbased & targeted online marketing that is matched by few agencies, plus powerful local networking, print advertising, and unique promotions--essentially, dedication to the task- Online, In Print, & In Person. We believe it helps us stand out among the masses.
If you are ready to "Change Your View," call us and say hi: 864-330-5626.